Audio & Video
The International Advanced Training in Todtmoos 2010 DVDs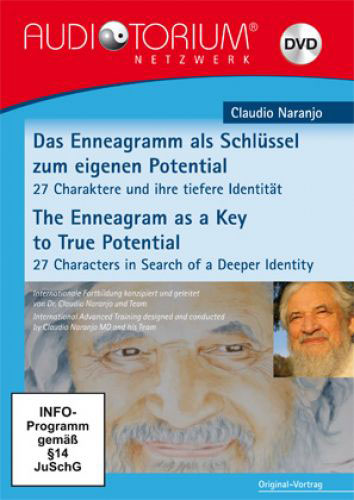 Long expected: The video summary of the International Advanced Training in Todtmoos 2010 is out now.
Spoken in English with German translation.
On 5 DVDs the following topics are summarized:
Introduction to the psychology of enneatypes
Presenting enneatypes and subtypes
Philosophers in the light of the enneatypes
Classical composers and enneatypes – a musical journey on the piano
Leaving the ego behind : Introduction to the virtues
Claudio honoring his teacher Tótila Albert: The poetic dimension of music
Meditations : Introduction and Practice
For English only speakers, the DVD set can only be ordered via e-mail because the Auditorium-Netwerk web site is written in German. However, their staff is fluent in English. You can order via e-mail by writing: Auditorium-Netwerk
Also avaialable from Auditorium-Netwerk:
Claudio Naranjo presents the music dictation of Tótila Albert
The Enneagram in music presented at the piano by Claudio Naranjo
The full unedited 34,5 hours (on 20 DVDs) of the International Advanced Training at Todtmoos
---
An International Symposium: The Psychology of the Enneatypes:

"27 Subtypes and its Relation to Pleasure, Power and Money" Click here
---
Conscious.tv - Claudio Naranjo "Seeker After Truth" Click here
Conscious.tv - Claudio Naranjo "Healing Civilization" Click here
---
The Ultimate Men's Conference - June of 2011
with Lion Goodman Running time: 50 minutes
---
World Spirituality: Spirit's Next Move Teleseries 2010
with Mariana Caplan Running time: 1 hour and 30 minutes
---
YouTube
---
Radio
I'm pleased to let you know that New Dimensions radio is featuring me on their worldwide radio broadcast on Wednesday, June 9 - 15. "Your Intuitive Mind Could Save the World with Claudio Naranjo, M.D." Hosted by Michael Toms. Program 3347
It will be airing the week of June 9-15, 2010 (their broadcast week begins on Wednesdays) on stations throughout the U.S. and Australia. You can also hear it streaming for free on the New Dimensions website for two weeks beginning June 9th or you can download it for a small fee at any time after June 1st. Go to Listening Options on their website menu for a list of radio stations that carry New Dimensions.
Topics explored in this dialogue:
How climate is related to the emergence of patriarchal attitudes
Why matriarchy is not the true alternative to patriarchy
How we can change the consciousness of a world when religions have failed to do so
How our education system must change so that it fosters our evolution
Why unleashing your inner animal may help save the world
In this intimate conversation I share stories from my lifelong journey, and the teachers who molded my mind and spirit. I explain the origins of the patriarchal attitudes that led to the violence, oppression, and greed that plague the world today, and identify the consequences of our dependence on reason at the expense of instinct. My solution, though, may come as a surprise, as I tell you that a return to matriarchy is not enough.
In my view, it's not the alternative patriarchy and matriarchy, but the alternative between patriarchy and a threefold integration of values and ways of thinking that cannot become a cultural reality if it doesn't start in the individual. Only by beginning with the politics of consciousness can we transform the outer politics of society. Once again we're reminded that global change begins with each of us -- and my prescription for change will invite your inner child to dance.
This interview will part of New Dimensions' wonderful archive, joining over 900 other dialogues in their archive. I am pleased to let you know that New Dimensions is working in partnership with Stanford University Library to digitize their entire archive of over 6000 hours of deep dialogues with hundreds of the most innovative movers and shakers on the planet. More hours are added to the archive every week.
---
Commercially Available recordings
Listen to the introduction and a partial description of enneatype two:
This 2 CD set is available from: Cloister Recordings
---
"DSM III in Light of the Enneagram" available in an audio CD or VHS tape from: Cloister Recordings
---
Here is a site that carries a large number of audio and video English language recordings of Dr. Naranjo. Be it by himself or with other well known seekers, you will find the subjects covered both varied and interesting: Sound.Photosynthesis.com
---
Interviews from the National Public Television series in either DVD or VHS format. The Traqnsmission of Knowledge & Approaches to Growth: East and West. Available via: Thinking Allowed.com
---
Big Sur Tapes has 12 audio offerings of Dr. Naranjo speaking on a variety subjects... and there is one with Allan Gisberg and Alan Watts on the theme of "The Madness of Poetry": Big Sur Tapes.com
---
3 Recordings - Exploration of Subtypes - I, Exploration of Subtypes - II, & The Holy Grail of Music - An Illustrated Lecture: ConferenceRecording.com